Achieving maritime domain awareness through OGC standards
One of the core benefits of adhering to open standards is the ability to exchange geospatial data in an open, interoperable manner. This ability is key when dealing with heterogeneous software components and architectures that need to communicate with each other. An example that is being investigated within the OGC's Geo4NIEM initiative is the achievement of Maritime Domain Awareness. Within this initiative, Luciad is using its OGC-compatible software components to demonstrate the sharing, visualization and analysis of maritime information in an OGC web services environment.
Luciad is a software product company providing standards-based software components to develop situational awareness applications in the Aviation, Defense & Security, and Maritime domains. Luciad has been an active supporter of OGC and OGC standards for many years. Luciad products implement more than a dozen OGC standards and candidate standards. Luciad also participates and votes in technical OGC sessions and is highly involved in interoperability programs such as the Geo4NIEM initiative.
Within the United States, the National Information Exchange Model (NIEM) is used to facilitate the sharing of information among different agencies, including maritime information. The purpose is to establish a national common operating picture across all levels of government in order to improve security. The Geo4NIEM initiative takes this one step further and aims to enhance geospatial interoperability in the NIEM environment through the use of OGC standards. A featured operational use case is the achievement of Maritime Domain Awareness (MDA), defined by the International Maritime Organization as the effective understanding of anything associated with the maritime domain that could impact security, safety, economy, or the environment.
One research task to support the MDA use case is the development of a maritime XML Schema based on OGC Geography Markup Language (GML) in accordance with NIEM requirements. The goal is to have a NIEM-compliant format that supports the representation of vessel positions and tracks, and that can be seamlessly used in an OGC-standards based environment. 
Luciad supports the MDA use case by developing a producer and consumer application to share, analyse and visualize maritime vessel information using the newly developed XML Schema in an OGC Web Services environment. This involves the use of OGC standards such as the OGC Web Feature Service (WFS) and Filter Encoding standards to query and filter the data, the Web Map Service (WMS) Interface Standard to publish the data as maps, and the Feature Portrayal Service (FPS) to portray the data using styling rules expressed in a Styled Layer Descriptor (SLD).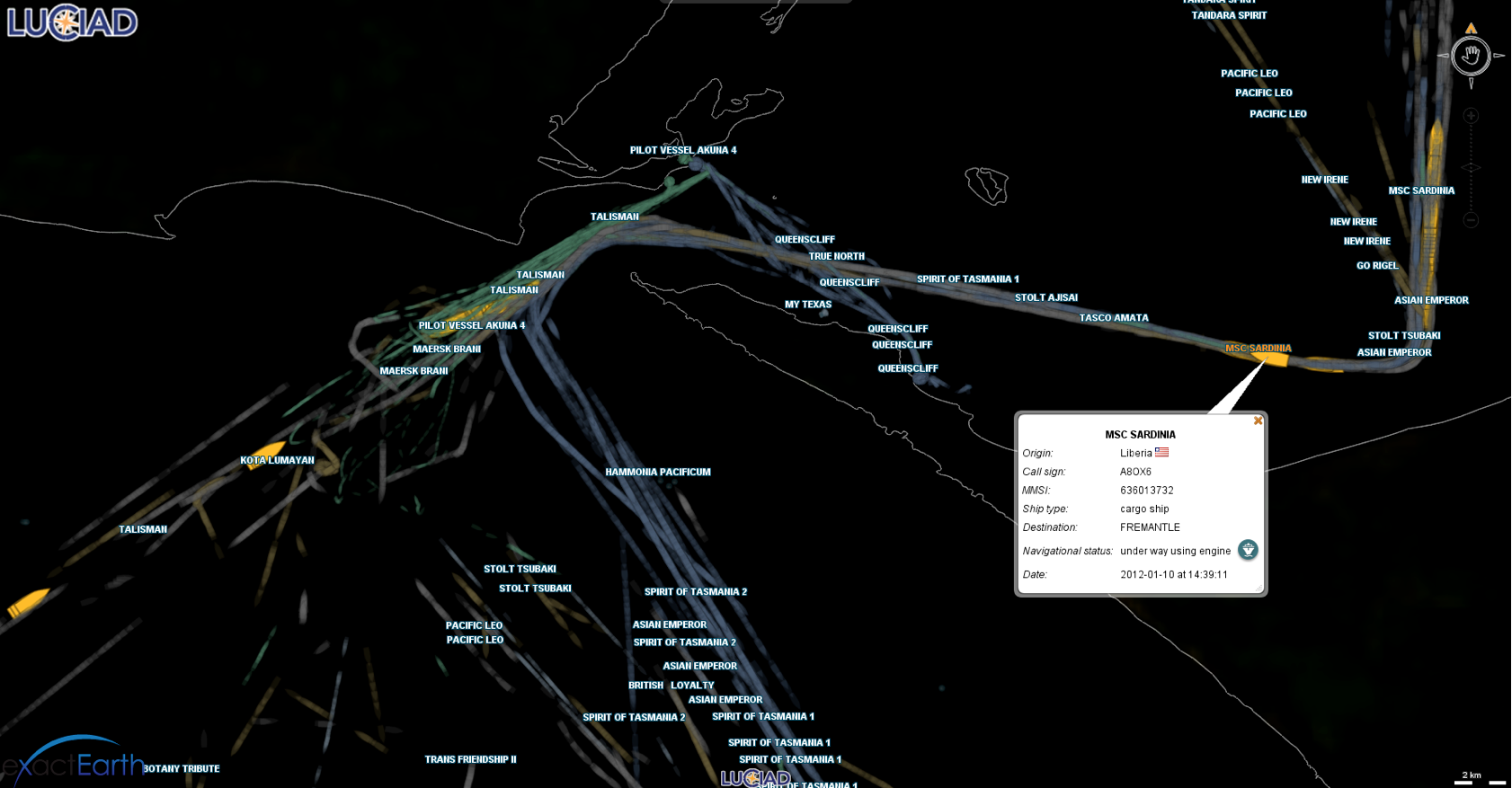 Visualization of vessel positions and tracks in the Luciad product-based consumer application.
Includes data © 2013 exactEarth Ltd. All Rights Reserved. 
Robin Houtmeyers is Software Engineering Manager at Luciad.