Carl Reed speaks at geospatial standards value workshop in Bahrain
Contributed by:
Dr. Khalid Al-Haidan, Director of GIS Directorate of CITO, Kingdom of Bahrain
Under the patronage of Dr. Mohammed Ahmed Al-Amer, President of the Central Informatics and Telecommunications Organization (CITO), CITO on behalf of the National GIS Steering Committee have conducted a Value Workshop in Collaboration with the Open GeoSpatial Consortium (OGC), which was held at the Crown Plaza Hotel, Manama, Kingdom of Bahrain on September 18, 2012.
The workshop was presented by Dr. Carl Reed, CTO and Executive Director Standards Program, OGC. The workshop focused on a number of recent technological developments that overcome interoperability barriers and truly create a community of practice locally that will address the key elements necessary for effective and reliable information sharing and coordination. An important outcome of the workshop was the development of a coherent vision for the future use of OGC standards that would fundamentally change the way forward for the geospatial community by exploiting the potential of new policies and practices to solve these geospatial technical interoperability challenges.
The workshop was attended by more than 140 participants, both decision-makers and planners, including VIP's from various governmental organizations. The opening speech was delivered by Dr. Mohammed Al-Amer, president of Central Informatics & Telecommunications Organisation (CITO), which paved the way for more awareness and usage of OGC standards and utilization in Kingdom of Bahrain. Thereafter Dr. Reed presented the first part of his executive presentation to all VIP's, which was very well received.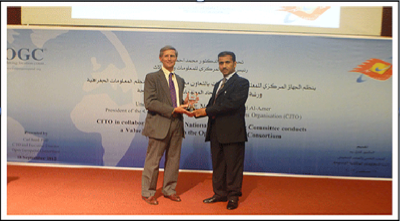 The workshop concluded with a token of appreciation given to Dr. Reed by Dr. Khalid Al-Haidan, Director of GIS Directorate (CITO). Afterwards, there was extensive media coverage, including interviews conducted with attending VIP's, who conveyed their support for the gains made in this area and their appreciation for holding this workshop to increase awareness of the importance and value offered through participation in standards development.