Sara Saeedi, Ph.D
Project Director, Collaborative Solutions and Innovation Program
Calgary, Canada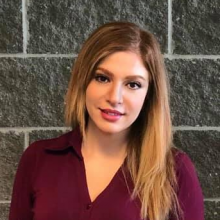 About Me:
Project Manager leading and managing OGC Collaborative Solutions and Innovation Program initiatives. Dr. Sara Saeedi has a contagious passion for collaboration and innovation in the global geospatial information community to make geospatial information Findable, Accessible, Interoperable, and Reusable (FAIR) via the power of internationally open standards.
Dr. Sara Saeedi was previously assistant director of the "Geo Sensor Web" Research Lab at the University of Calgary, creating and applying OGC standards in multiple domains, including the Internet of Things, Earth Observations, Oil and Gas, Public Safety, and Aviation. Sara started working with the OGC in 2015 and was a member of the OGC Architecture Board from Jan 2020 until Jan 2022.
Sara graduated from the University of Calgary with a Ph.D. in Geomatics Engineering, specializing in multi-sensor positioning, navigation, and wireless location. She holds a B.Sc. and M.Sc. in Geomatics and Civil Engineering from the University of Tehran.