Jonathan Fath
Director, Marketing & Promotions
Washington D.C, USA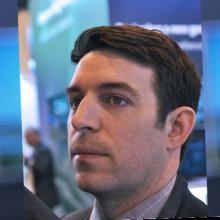 About Me:
Jonathan Fath is OGC's Marketing Director. He is responsible for all communications and outreach activities, marketing-oriented strategic planning, and Marketing and Promotions (MAP) department activities.
Jonathan is a life-long marketing professional. He is passionate about succeeding together with his organization's community, partners, and team members through effective marketing strategy and communications execution. This comes from a rich background in collaborating with both government and private industry, and a love of solving problems.
Before joining the OGC team in March 2020, Jonathan led L3Harris Technologies' marketing strategy across multiple domains in their Aviation Systems Segment. Prior to his role at L3Harris, Jonathan had assumed several different roles, including communications management and marketing consulting across the Washington D.C. Metro Area.
Jonathan participates in multiple forums outside of OGC such as the Air Traffic Control Association Conference Planning Committee, and the Public Relations Society of America. He holds a bachelor's degree from Radford University in Communications and has obtained multiple project planning and creative services certifications.